TIME TO SAY, BUGGER OFF DEPRESSION AND HELLO TO TANDEM SKYDIVING!
Remember how Nicolas cage bumps into an 'Elvis skydivers' plane on his way to Vegas and grudgingly ends up skydiving with a bevy of Elvis Presley masquerades in 'Honeymoon in Vegas? Although he was apprehensive before making the dive, he gradually overcame his fear and started enjoying it.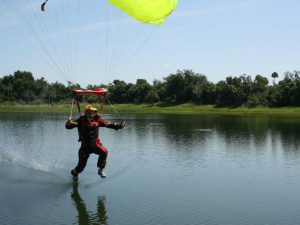 You could recreate that magic for yourself if you give skydiving a shot. But in real life you need to learn it before you take the plunge. So take the first step with tandem skydiving.
What is tandem skydiving?
It's a type of skydiving where a newcomer is tied up with an instructor. The entire process is explained by the instructor right from jumping from the plane to landing. It is the safest type of skydiving. So safe, that someone who has a fear of heights can also give it a shot to conquer his/her phobia.
Now you may wonder why do I need to do this?
We can give you 5 reasons why you should try it or rather start this adventurous journey with Tandem skydiving:
No fear of mistakes: When you have a trainer strapped with you, there is no possibility of making any mistake. Free your mind and leave the rest to the instructor. All you have to do is listen to your instructor and enjoy the trial. The best part is, it takes very little time and is much easier than you think.
Unwind: Even a section of psychiatrists suggest that shouting or crying out loud helps you ease up. So do it with all your heart while you're at it and unwind. No one is going to raise their eyeballs or judge you. So shout and laugh out loud as much as you can. 
Make it a memory: If you're a selfie addict then tandem skydive is the best possible way where you can take the most unusual selfies of your escapade. P.S- You can even carry a selfie stick and play around. So make it a venture of your lifetime and let the world know by posting those amazing pictures on your social networks.
Overcome: Believe it or not, once you know how enthralling an experience it is you may even end up overcoming the fear of death. As far as death is concerned, it may come anytime, anywhere in any form. But no fear in Tandem skydive.You'll be under the aegis of an experienced skydiver who has a series of successful skydives under his belt. Literally!
Insanely beautiful: Of course you loved the view of all those things under you while you travel in an airplane. Now imagine the same sight sans the airplane. The entire view from the top is insanely captivating and something everyone should keep in their to-do bucket list to try this at least once in a lifetime.
So, eating chocolates, partying and talking with friends always helps when it comes to heal your soul. This time, try something out of the box and stun yourself for a change.